Regular price
Sale price
$70.00 USD
Unit price
per
Sale
Sold out
The DB300 tank divider makes it easy to:
Run multiple batches of parts at the same time
Run multiple media sizes and/or shapes at the same time
Reduce part impingement on soft materials
Made in the USA
Easy to install at any location
Simple and sturdy design and construction
Installation:
Simply decide where you want the divider to be located for your application
Place the divider in the chosen location

Ensure the notched end at the top fits around the spray bar that runs across the back of the tank 
The divider is not meant to sit in between the ribs of the liner

It should sit on top of the ribs and have a snug fit

Occasionally the divider may be slightly oversized and difficult to fit.

In this case lightly sand the edges of the divider until it can be put in place.

Mark holes to be drilled
Drill two 5/16" holes
After drilling holes, fasten in place with included nuts and bolts.

Note: The set of three pre-drilled holes are used for the sound abatement cover attachment and are not meant for divider mounting
*Note The Mr Deburr tanks have natural slight variations due to the urethane liner properties. For this reason the divider assemblies will not have an air or liquid tight fit.
Small millimeter sized medias such as porcelain spheres or small parts may pass through or become lodged between the divider and liner in some cases.
Share
View full details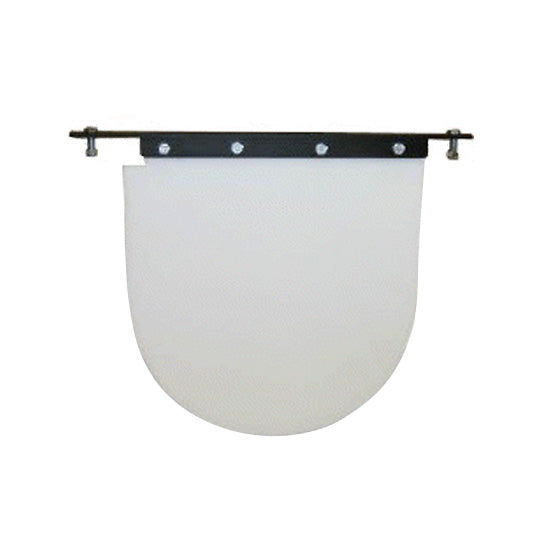 Great Dividers, eliminated damage to heavier aluminum parts.
I was concerned about parts possibly sticking to the sides.
Somehow, parts did not stick to these acetal dividers as they do to the black tub liner sides. I was very pleased with the results.
Good divider
Good quality divider, thick plastic and sturdy metal mount.
Simple but awesome!
We run small enough parts that we can use two of these dividers per tank, which effectively gives us 3 tumblers in one. They're great for running multiple stages of media in the same tank or keeping heavy parts from pinging into each other when running. They basically triple our productivity! We have 5 tumblers with these dividers running 10+ hours a day and it took about 4 years for them to wear out. Well worth the investment!