Regular price
$283.00 USD
Regular price
Sale price
$283.00 USD
Unit price
per
Sale
Sold out
The DB300 complete bearing assembly comes with everything you need to fully replace your bearing system. The assembly is pre built and spacing is set so that you can quickly and easily replace the entire assembly on your shop floor. 
The complete assembly includes:
2 Pillow Block Bearings
Drive Shaft
2 Shaft Weights
Shaft Pulley
Shaft Pulley Bushing
*Does not include tooling shown
When Installing the Unit:
Put a thread locker adhesive on the bolt threads
Install in place and tighten the 4 bolts just before hand tight
Use the belt and pulley to rotate the shaft
Ensure the shaft is free running and smooth, the offset weights will give it the illusion that it's hanging up but it's just heavier as it rolls over. The bearings should feel nice and smooth through the whole rotation
If the unit doesn't feel smooth you can tap on the housings to adjust their alignment, this may take a few iterations
Tighten down with full torque until tight
Never run the machine with loose bolts


Bearing Specs and Greasing Guideline
Document
Share
View full details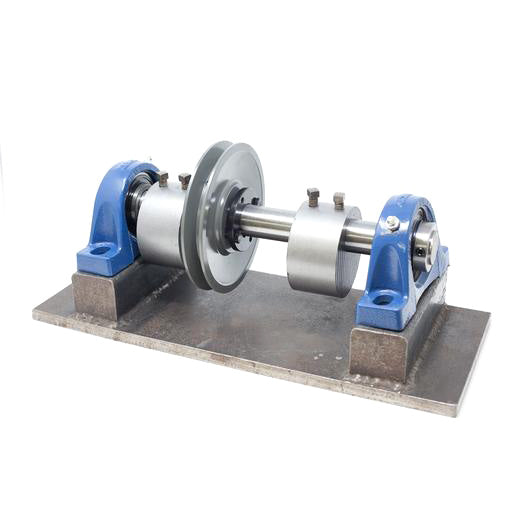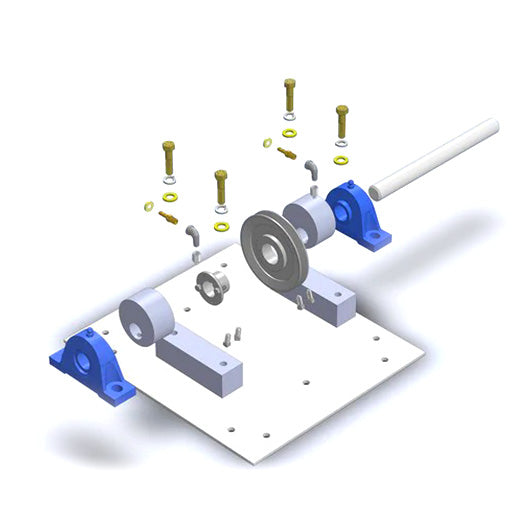 Site Easy To Navigate
site was easy to navigate was able to easily find products I was looking for customer service was prompt and helpful.
Easy repair of a critical component...
Not much to say other than everything you need to replace the shaft, weight, and bearings is all there and already built. Got my tumbler back up and running in about 20 minutes after a bearing failure -- we logged 5 years of daily ops on the first set; we are pleased!